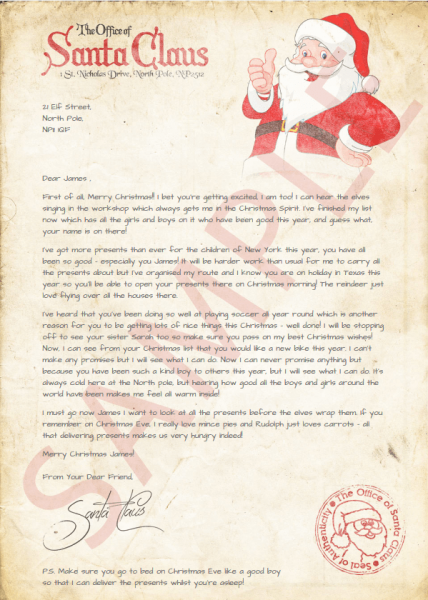 Help your children experience the true festive spirit of Christmas with an authentic Christmas Letter From Santa.
Their little faces will light up when they receive their personalized letter from Santa with information that only 'he' would know! They're a perfect Christmas treat for both young and old!
Your child will relish in joy when they realize Santa knows the names of their friends, what's on their Christmas wish-list and whether they have been naughty or nice. Only Santa could know these things!
Treat your little one to a customized letter from Santa in the North Pole!
These Santa letters for Christmas are truly unique as they are personalized with information provided by you, for each child and are signed by Santa himself. The even include a stamp from the North Pole!
The highly personalized message is signed from Santa, a 'P.S.' is added and a stamp from the North Pole is included on the envelope! The personalization service allows you to add details about your child's good achievements, the names of their siblings and friends, and gifts on their Christmas list, if they have one.
You can create a multitude of different letters as you can choose from a variety of paragraphs, which is extremely useful if buying Santa letters for a number of children so they all get a unique letter from Santa.
Order today and make your child's Christmas magical!
Tips For Personalizing Your Letter From Santa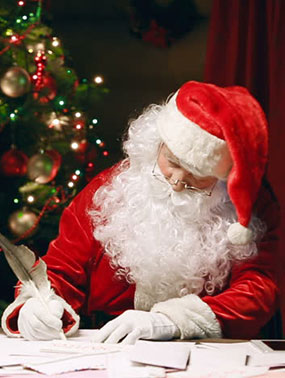 In order to ensure you get the best result from your Santa Letter it's important to fill in the personalization carefully, you really want to give your child the best gift.
1. Gift Ideas
Phrase the gift idea as the answer to the question "What could it be…?" For example, you could enter "A bike" or "The Frozen Olaf doll you love".
If you decide not to enter a gift, the letter will simply read "What could it be…? Maybe it's the gift you've been wishing for" and keep them guessing!
2. Activities and Achievements
Phrase the activities and achievements as the answer to the question "Now I have heard that you are doing so well…" For example, you could enter "at school" or "at sport".
By including all of the important people and events in your child's life will help increase the belief that Santa is really watching everything.
Spread some good will this festive season with your customized Santa letter for kids!
So don't delay, order a Santa letter today.
Final Santa Letter Posting Dates
Please do not place a letter order with Christmas Letters from Santa after the last postal dates listed below as we cannot guarantee that they will reach you in time for Christmas:
United States: Friday 14th December 2018
Canada: Friday 14th December 2018
United Kingdom: Thursday 20th December 2018
Australia: Tuesday 11th December 2018
New Zealand: Tuesday 11th December 2018