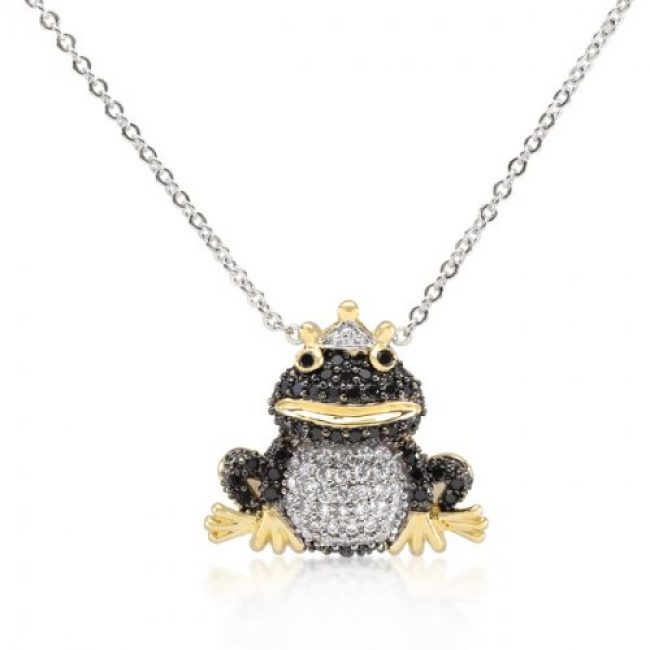 Frog Prince Pendant Necklace
Animal inspired Frog Prince Pendant Necklace with 18 Inch Chain in 14k Gold Bonded Jet Black and White Cubic Zirconia.
14k Gold Bonded Jet Black and White Cubic Zirconia Frog Prince Pendant with 18 Inch Chain Included in Goldtone. Add a hint of sparkling menagerie to your look with this gold toned necklace featuring an adorable CZ Frog Prince.
Base Metal: Lead Free Alloy (Brass)
Clasp: Lobster
Item Weight: 0.04
Carat Weight: 4.4 (ct)
Chain: 18 inch
Setting Type: Pave
Style: Fashion Contemporary
Material: Cubic Zirconia
Stone Cut: Round
WHY CHOOSE MOSTLY GIFTS?
At Mostly Gifts we are always working to bring you a wide range of stylish, affordable and fun gifts selectively picked for our quality conscious customers. We aim to have something for all the people in your life, regardless of age and taste. We are sure you will find marvellous, unusual and awesome gifts to suit any occasion and budget. So browse around and you may just find something fun for yourself too!
FAST & FREE SHIPPING
We offer FAST & FREE SHIPPING throughout the USA with 97% of our orders shipped within 5 business days. More than a half of our orders are shipped within 3 business days or less.
MONEY BACK GUARANTEE
We are committed to making sure you are 100% SATISFIED with your order. Each & every order is covered by our 100% Satisfaction Guarantee – If for any reason you are not 100% satisfied with your purchase with us, simply let us know and we will provide you a full, no questions asked refund. We know you'll love the quality you find here, so please have no fear and try us out today!
Specification:
Frog Prince Pendant Necklace
Related Products